Main Content

Who is Catholic Charities and What Do They Do?
For over a century, Catholic Charities has been serving communities across North Carolina. Although the program's name has changed a time or two throughout their history, their mission to provide for those in need has remained the same. Catholic Charities offers many unique services for a plethora of communities in North Carolina, including but not limited to, families, veterans, new mothers, children, refugees, and immigrants.
How is Catholic Charities' Immigration Program Responding to COVID-19?
"The Immigration Program with Catholic Charities Diocese of Charlotte (CCDOC) is aimed to serve the poor, the vulnerable, and those in need. Their services are available to all people regardless of their age, race, ethnicity, religious affiliation, or economic/social background.  The COVID-19 crisis brings new challenges and has prompted CCDOC to innovate its services and thus continue to serve the community. The CCDOC – Immigration program has adapted to this new reality to continue providing services via video conference and remote assistance to their program participants. Through their services, they seek to strengthen families, build communities, and reduce poverty. The program is accredited by the Department of Justice (DOJ) and their staff is devoted to helping clients better understand their legal status and possible immigration benefits. As CCDOC-Immigration Program follows CDC guidelines, they would continue providing assistance and reaching out to those who can be served remotely."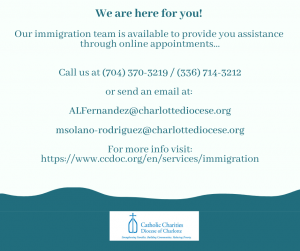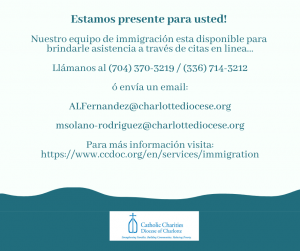 How Can I Get Involved?
With volunteer opportunities in Asheville, Charlotte, and Winston-Salem, there are plenty of ways for students and adults to get involved. Catholic Charities also accepts a variety of donations for their many programs. Besides donating money, you can also donate in other ways, such as donating grocery items or household items. To learn more about how you can help in your community, check out the volunteer opportunities page on the Catholic Charities website.
For more information about Catholic Charities please visit ccdoc.org and follow along for live updates on the Immigration Program on Facebook.
Recent Posts
March 22, 2021

March 18, 2021

March 3, 2021